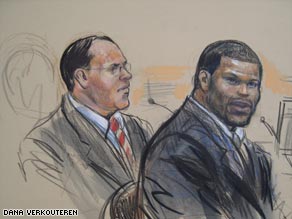 So Michael Vick still owes a shit ton of money to a bunch of folks. These matters are being discussed at his bankruptcy hearings in Virgina.
However, this dude - at least in my eyes - has paid his debt to society. Apparently he'll be working a 40-hr a week construction job when he's released. He'll do that and some other random stuff as a holdover until the Commissioner decides to let him play ball again.
Keep in mind that he'll have to deal with intense heckling. The likes of which has only been seen by Mr. JJ Redick:
The crazy part is that people might love Michael Vick again in the not-so-distant future. No one will ever love JJ Redick.