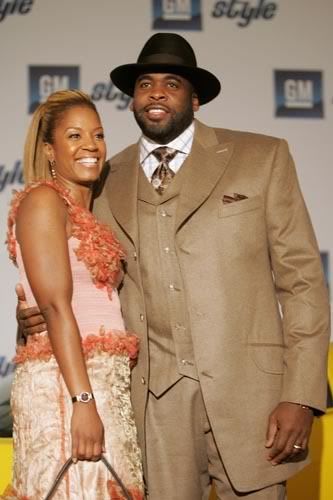 I've never met a man named Kwame that I could trust.
My great disdain for individuals named Kwame began when I first caught wind of Michael Jordan's constant
berating of wasted draft pick Kwame Brown.
But it didn't stop there. Kwame Brown was later acquired by the Lakers. Mitch Kupchak seemingly believed that Kwame was a better piece for our puzzle than Caron Butler.
Needless to say, Caron Butler is now an All Star. And Kwame Brown - unfortunately - is still Kwame Brown.
Lucky for LA fans, we slipped the date rape drug into the drink of the Grizzlies' GM and stole away an attractive Spaniard named Pau Gasol. At the time that this article was published, Kwame Brown was still Kwame Brown. And somewhere in America, Michael Jordan was still shaking his head in disbelief.
But with all of that said, I was under the impression that I wouldn't suffer any further heartache or anguish at the hands of another individual by the name of Kwame.
But lo and behold, Mr. Kwame Kilpatrick has officially supplanted himself on the Wall of Shame thanks to the fact that he has been charged with 8 - not 3, but 8 - felonies. The 37 year old male engaged in high schooler behavior when he decided to send a number of racy text messages to staffer Christine Beatty. The two went on the lie about these messages under oath. My favorite exchange between the Mayor and Beatty went as follows:
KK: I'm at Laker game. The security doesn't believe I'm mayor. Mike is pulling out all kind of shirt to prove it.

CB: And, did you miss me, sexually?

KK: Hell yeah! You couldn't tell. I want some more. Don't sleep!
This is but one of numerous exchanges between the Mayor and his mistress.
Kwame has apparently expressed great pride in being widely recognized as the first "hip hop mayor." And aside from being Black and still rapping at the age of 37, I will same that his propensity for getting caught and then lying about it is strikingly similar to that of his hip hop forefathers.
Beyond any reasonable doubt, this is the year of the Political Sex Scandal.
What do we have to do to get Larry Craig back on the front page?